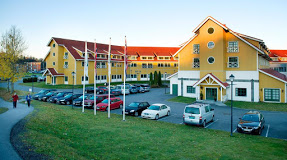 Quality Hotell & Resort Sarpsborg is the Nordic region's largest activity and conference hotel with conference capacity for 2,500 participants and with 250 rooms and 720 beds. The hotel has its own water park.
Sarpsborg orienteering team has a collaboration with Quality hotel, Sarpsborg (same as the WC 2019 center) regarding accommodation in connection with Solrenningen 2023 from 14-16 April.
They can offer accommodation in single, double or family rooms at reduced prices. The price also includes breakfast and free access to the water park. The reduced price is valid for 1 or 2 days.
Booking is made directly to the hotel by entering code: 19659 and Sarpsborg O-lag. Be quick as the offer is limited and demand for accommodation is high! Phone: +47 69101500
Other hotels:
Scandic Sarpsborg, phone: +47 69124200
Hotel 1016 Olav Digre, tel: +47 68152055
Camping and cabins
Feriehjemmet bathing area and camping rents cabins on a weekly basis. Contact http://www.feriehjemmet-bukten.no/
Høysand camping in Skjebergkilen is also a good accommodation option. Contact http://hoysand-camping.no/
Utne camping rents out rooms, cabins, apartments and caravans for hire. Contact http://utnecamping.no/nb-no/
Harehjellhytta in Trøsken, send email: utleie@trosken.com
Sarpsborg hostel, Tuneheimen, both single rooms, double rooms and multi-bed rooms. Call +47 69 14 50 01 to order.
Mobile home parking Rudskogen: Call +47 917 05 579